Smart moves to responsibly boost your credit profile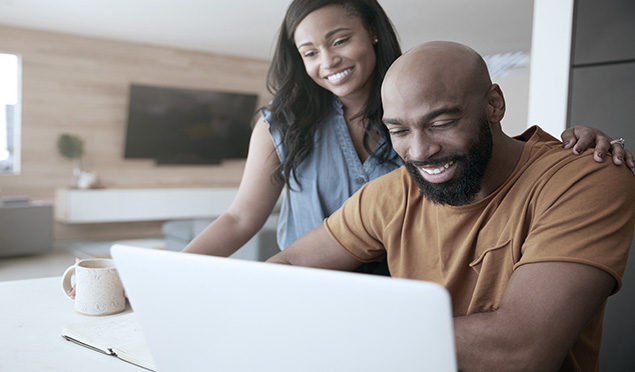 Published on 26th November, 2021 at 03:09 pm
Your financial goals are set – but could your credit profile get in the way of achieving them? Find out how to responsibly boost your credit profile and make your dreams a reality with these easy steps.
We have big a debt problem
According to the Consumer Default Index (CDI) published by credit bureau Experian reflecting data from the second quarter of 2021, South Africans' total outstanding consumer debt stood at nearly R2 trillion. Having debt on its own isn't cause for concern, but when you use credit irresponsibly and begin accruing debt that you can't keep up with, you can end up in a debt spiral. A large chunk of South African consumers are in this position; according to Experian's report, credit card accounts, personal loan accounts and retail loans accounted for the three credit product groups with the highest indices for first-time defaults. The bureau defines these defaults as "when a lender deems the statement balance of a consumer account to be uncollectible due to being in arrears 90 or more days or having statuses such as repossession, foreclosure, charge-off or write-off for the first time in the history of the specific account", in other words, if a consumer repeatedly misses payments and becomes overdue for longer than 90 days. From April to June 2021 alone, there was a total of about R20 billion in balances with first-time default statuses among South African consumers.
What this means for your credit score
A default has consequences for you as a consumer. It impacts whether you can get credit and what the cost of credit will be. Skip enough payments or show erratic behaviour in how you manage your credit agreements, and it can tarnish your credit profile – something that is heavily weighted when you apply for something like a home loan or vehicle finance. "Your credit history and credit score help lenders determine your creditworthiness," says Annelene Dippenaar, Chief Legal Officer at Experian South Africa. "This is reduced if you have negative information on your profile. That would make it hard for you to get financing for a car or a home." It may even impact your ability to successfully apply for a service agreement, like a cellphone contract.
Dippenaar adds that it's not just your ability to apply for credit that will be at risk, but insurance applications, too. "You may pay higher insurance premiums since many insurers look at your credit profile as an indication of risk. The lower your credit score, the more risk you may pose to them." You would likely pay higher rates due to the lender not having confidence in you for paying on time or keeping up to date with payments, adds Jiten Singh, Director and financial planner at Future Vision BlueStar, underwritten by Sanlam.
What if I've never taken out credit?
It's great to having a budgeting and savings mentality, but often we need a hand to make the bigger purchases happen. Lenders are happy to help, but only if you are worth taking a risk on.
Think of your credit profile like your CV: the more information a prospective employer has about your education, skills, experience, and character traits based on references, the better informed they will be to decide to take a chance on you – for all intents and purposes, a total stranger – or not.
With a credit profile, your history with lenders helps a prospective lender figure out how much of a risk it will be to loan you money. "Your credit score determines credibility where binding contracts have to be made," says Ayanda Ndimande, strategic business development manager at Sanlam Personal Loans. "With no credit history, there is no score."
Understand your credit report
Now that you know the importance of a good credit score, it's important to understand where you stand on lenders' radar to see if and where there are areas for improvement. "How you repay your accounts, in other words, your payment history, is one of the biggest factors that influence your credit score," says Dippenaar. A bad payment history includes skipped payments and late payments. Legal notices, court orders and judgements in your name also have a negative impact on your credit score.
Then there's the issue of too much credit, specifically short-term and unsecured credit, which is typically more expensive credit. To be seen as a responsible borrower, you need to strike the balance of just the right amount of credit in your name – a few responsibly managed agreements, but not too many. "Having too much credit, especially if you are using close to the maximum balance or have several unsecured loans and accounts, can affect your report and score," says Dippenaar. "This is especially important when lenders do an affordability calculation. If you are spending too much paying back credit owed, you may be seen as high risk."
If there is incorrect information on your credit report, this also needs to be corrected as a matter of urgency. "Wrong information means your assessment is based on wrong information and will have an inaccurate result, meaning you can be declined for credit that you actually do qualify for," says Dippenaar.
Steps to boost your credit profile
If you have no credit agreements
If you don't have any credit agreements, an easy way to boost your credit score is to apply for a credit card or store card.
The Sanlam Money Saver credit card helps you save while you spend. If you choose to commit to saving with the Sanlam Money Saver credit card and shop with Reward Partners, you'll get 5% added to your Wealth Bonus at no extra cost, except at Total forecourts. If you don't commit to co-saving, but still use your Sanlam Money Saver credit card at Reward Partners, you'll get 3% added to your Wealth Bonus, except at Total forecourts. If you fill up at Total, you earn R1 cash back per litre of fuel guaranteed! Find out more here.
If you have existing credit agreements
Healthy credit history
If you've been managing your existing credit card responsibly, consider upping your spend limit. "This will give you more purchasing power, and shows future lenders that you can be trusted with larger loan amounts," says Singh. "You could also apply for a second card if you already have one to boost your credit score."
Ndimande suggests aiming for a credit utilisation ratio below 40%, ie avoid maxing the credit allocated to you, especially with a credit card.
Want to know the difference between good and bad credit? Read this.
Bad credit history
"To fix a poor payment history, start repaying what you owe on the due date. Also ensure that the data indicating payments made by you is submitted to the credit bureau," says Dippenaar. A similar approach should be taken with any legal steps that have already been taken against you: comply with the order or judgement (ie pay up the debt), says Dippenaar.
Once you've settled those agreements, it's time to form new habits to build a great credit score:
Pay debt on time
"If you have a few outstanding debts, start with one, but remember not to neglect payments on the others," says Dippenaar. "Over time, once you regularly pay the installment amounts on time, your credit profile will improve."
Never miss a payment
Check your credit report often
"Know what accounts you have and how much you owe. This will help you understand how to budget so that you don't miss payments," says Dippenaar. It also helps you detect any information that may negatively impact your score. With Sanlam Credit Solutions, you can check your credit score, credit history and recommendations all on one dashboard.
Avoid using credit as a convenience
"If you're relying on credit to get through the month, you need to revise your budget instead. Using too much credit can affect your score negatively," says Dippenaar.
Use these tips to manage your credit responsibly and boost your credit score today.
It's important to understand your credit profile so you know where there are areas for improvement. Take the first step by registering for your free credit report with Sanlam Credit Solutions.
Want to learn more?
We send out regular emails packed with useful advice, ideas and tips on everything from saving and investing to budgeting and tax. If you're a Sanlam Reality member and not receiving these emails, update your contact details now.
Update Now