"Thank you for helping me feed my daughter"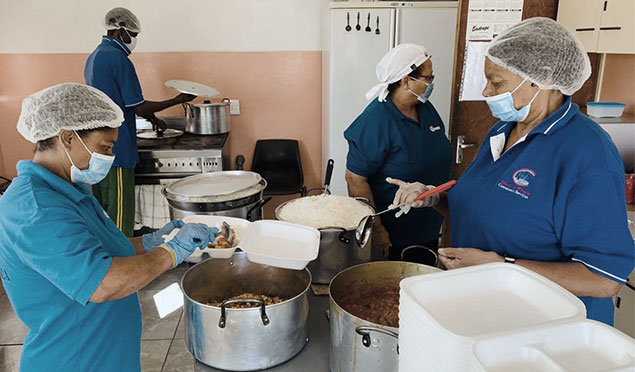 Last updated on 1st June, 2020 at 02:28 pm
See the difference Sanlam Reality's R1 million donation to Meals on Wheels is making during the COVID-19 pandemic – and see the good you're part of
Since lockdown was declared in South Africa as a result of the COVID-19 pandemic, Sanlam Reality has donated R1 million to NGO Meals on Wheels, helping to feed the most vulnerable in our communities during this difficult time.
As a Sanlam Reality member, you've been part of impacting thousands of lives across the country. Let's take a look at the support Sanlam Reality and its members have already provided through Meals on Wheels:
6 Provinces received food relief: Gauteng, Eastern Cape, Western Cape, KwaZulu-Natal, Northern Cape and the Free State.
50 000 Meals were provided for families and individuals in need.
14 000 Meals were delivered during April.
17 000 Meals were delivered during May.
437 Meals on Wheels volunteers helped to distribute food relief across the country.
Some of the lives you're helping to change through Sanlam Reality's R1 million donation to Meals on Wheels
"You saved our lives"
"Thank you so much! We really appreciate your kindness. Starvation is hitting us hard, more especially my wife who suffers from chronic high blood, kidney failure and has grown fibroids. We were so desperate and you saved our lives! I have just received foodstuffs; we thank you so much for your love towards us." – George, Jo'burg
"Knowing someone cares during this lockdown period brings us to tears"
"Without the help and food that has just been delivered from Meals on Wheels, my husband and I would be too weak to even get up in the mornings. Knowing someone cares about us enough, to come and see us, during this lockdown period, brings us to tears…" – Anne, Cape Town
"I've lost my income due to lockdown – Meals on Wheels is keeping me from starving"
"I am so appreciative; in this time, I am not receiving a salary, as we have a 'no work, no pay' policy. I have no food in my house. If not for Meals on Wheels, I would be starving to death." – Chantelle, Durban
"You've helped me to make a full recovery"
"I have been sick for a while, and have even developed bed sores. With the help of the Meals on Wheels carer that has delivered meals and nappies and ointment, I have made a full recovery in the last few weeks." – Bob, New Germany
"Thank you for helping me feed my daughter"
"I have a disabled daughter who I'm caring for on my own. I would never have had enough to feed both of us without the help of Meals on Wheels. Thank you." – Gogo Nono, Eastern Cape
Click here to read about Sanlam Reality's donation, as well as Sanlam Group's R1 billion pledge during this difficult time.
Want to learn more?
We send out regular emails packed with useful advice, ideas and tips on everything from saving and investing to budgeting and tax. If you're a Sanlam Reality member and not receiving these emails, update your contact details now.
Update Now